Eileen Gray: E.1027, 1926-1929 (O?neil Ford Monograph)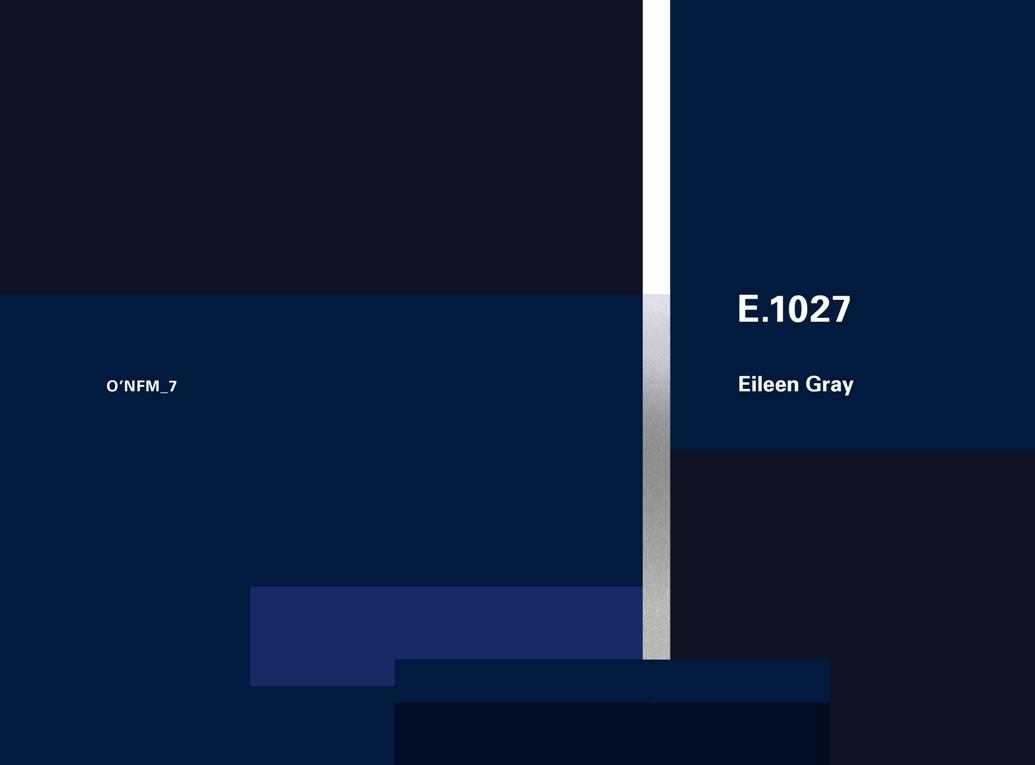 Gray, Eileen
Encuadernación: Softcover
Idioma: English
Páginas: 288
Medidas: 29.50 x 21.50 cm
The compact white elongated vacation residence cryptically called E.1027 is perched on the rocky coast of the Côte d'Azur. To this day, it draws the views of passers-by along the Moyenne Corniche, the narrow and winding coastal road along the Mediterranean Sea. The Anglo-Irish designer Eileen Gray (1878-1976) bought the site, paid for the construction and, as her first foray into architecture, designed it with assistance of her close friend at the time, Jean Badovici, to whom Gray gave the site, building and contents. E.1027 was a manifesto, the kernel of Gray's subsequent social and architectural projects for vacation and cultural centers. For Gray E.1027 was an experiment with entirely new concepts of both compact and expansive spatial relations, and not simply the more well-known aspects of furniture design such as the legendary eponymous circular adjustable occasional table.
On close inspection, E.1027 is the first example of an architecture embracing an Ionic sensibility, which is an architecture concerned with both a sense of lightness, freedom and growth while at the same time being composed along discreet rules such as golden section proportions. Gray's loose and fitted pieces of furniture were intended to engage the occupants of E.1027; they transformed them while they were in turn subconsciously transformed by them. Semi-circular wardrobes, rotating reading tables and rounded corners indicated movement patterns. Gray designed these as closely as she integrated the passage of the sun and the ventilating effect of drafts through her ingenious screens and carefully composed spatial sequences.
As a daughter of a wealthy Anglo-Irish family, Eileen Gray studied fine art at the Slade in London, became a master lacquer artist, opened a shop for furniture and furnishings in Paris and sold pieces to the wealthy and discerning. Together with Badovici, editor of the avant-garde journal L'Architecture Vivante, Gray absorbed the developments of early twentieth century modern architecture. The two traveled the world, visiting exhibitions and contemporary examples of architecture. Gray's fundamental critique of these led Badovici to challenge Gray to demonstrate her own ideas in a building; it was to be E.1027 in Roquebrune-Cap-Martin.
Eileen Gray designed the site and its landscape, the building, the spatial arrangement, the different windows (some in collaboration with Jean Badovici) and doors together with their hardware, the fitted and many items of loose furniture, the lamps, the textiles, the color scheme, while also being involved in transporting building materials and supervising construction. While of the some 100 elements that Eileen Gray designed specifically for E.1027, twenty-two are included in this monograph, the attentive reader may well conclude upon turning the last page that there was not a comparable total work of modern art produced anywhere in the twentieth century by one person as this debut in architecture.
Hay existencias