Heroic. Concrete Architecture and the New Boston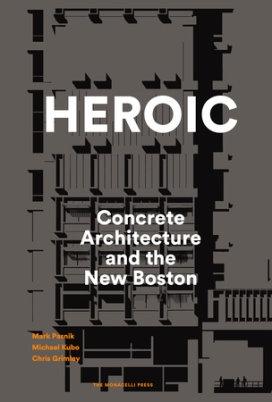 Pasnik, Mark
Encuadernación: Hardback
Idioma: English
Páginas: 320
Medidas: 18.00 x 26.00 cm
Often problematically labeled as "Brutalist" architecture, the concrete buildings that transformed Boston during 1960s and 1970s were conceived with progressive-minded intentions by some of the world's most influential designers, including Marcel Breuer, Le Corbusier, I. M. Pei, Henry Cobb, Araldo Cossutta, Gerhard Kallmann and Michael McKinnell, Paul Rudolph, Josep Lluís Sert, and The Architects Collaborative.
As a worldwide phenomenon, building with concrete represents one of the major architectural movements of the postwar years, but in Boston it was deployed in more numerous and diverse civic, cultural, and academic projects than in any other major U.S. city. After decades of stagnation and corrupt leadership, public investment in Boston in the 1960s catalyzed enormous growth, resulting in a generation of bold buildings that shared a vocabulary of concrete modernism. The period from the 1960 arrival of Edward J. Logue as the powerful and often controversial director of the Boston Redevelopment Authority to the reopening of Quincy Market in 1976 saw Boston as an urban laboratory for the exploration of concrete's structural and sculptural qualities. What emerged was a vision for the city's widespread revitalization often referred to as the "New Boston."
Today, when concrete buildings across the nation are in danger of insensitive renovation or demolition, Heroic presents the concrete structures that defined Boston during this remarkable period—from the well-known (Boston City Hall, New England Aquarium, and cornerstones of the Massachusetts Institute of Technology and Harvard University) to the already lost (Mary Otis Stevens and Thomas F. McNulty's concrete Lincoln House and Studio; Sert, Jackson & Associates' Martin Luther King Jr. Elementary School)—with hundreds of images; essays by architectural historians Joan Ockman, Lizabeth Cohen, Keith N. Morgan, and Douglass Shand-Tucci; and interviews with a number of the architects themselves. The product of 8 years of research and advocacy, Heroic surveys the intentions and aspirations of this period and considers anew its legacies—both troubled and inspired.
Agotado
Sin existencias en este momento. Si desea información sobre el libro, por favor contacte con bookshop@ivorypress.com