The European Desktop (signed, exlibris)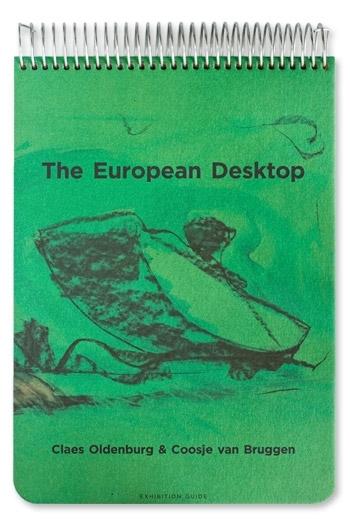 Oldenburg, Claes
Binding: Spiral
Language: English/Spanish
Pages: 55
Measurements: 15.00 x 22.00 cm
Signed copy containing Oldenburg's exlibris.The European Desktop exhibition has been realised through the generosity of Claes Oldenburg, who determined to re-explore a work that he and his late wife, Coosje van Bruggen, had made together in 1990.
Van Bruggen had noticed a headline in the International Herald Tribune: "Undoing Yalta, 45 Years Later, and a New Europe" and this unqualified optimism became the spur for The European Desktop, a war-torn landscape of desktop accoutrements. The work is comprised of a number of sculptures-a shattered desk pad, a quill, an ink pot, a blotter, and postal scales-all of which appear to have fallen from the sky and are now left languishing as forgotten victims of a previous time. It is a play on historical skirmishes for national boundaries and the displacement of European cultures. Oldenburg and van Bruggen seem to declare that time is never passive and succeed in turning memories into relics. The drama, political or otherwise, has already been unpacked and is slowly fading away; only a desolate wasteland of abandoned objects remains.
The European Desktop is the third and final work in a series of theatrical installations that grew out of Oldenburg and van Bruggen's performance with architect Frank Gehry for the 1985 Venice Biennale, Il Corso del Coltello. The first two works in this series were The Haunted House and From the Entropic Library. All three works use history as a source material and are conceptually situated in a peculiarly European milieu.
Oldenburg cleverly recognised the significance of re-presenting this body of work now, under the shadow of the recently enforced Treaty of Lisbon. The prophetic spirit of The European Desktop now seems uncanny.
This is Oldenburg's return to Spain, building on his and Coosje's impressive presentations at the Guggenheim Museum in Bilbao; exhibition of Knife Ship I-the large prop from the Coltello performance which was installed at Palacio de Cristal in Madrid during the summer of 1986; solo exhibition at IVAM in Valencia; and the Joan Miró Foundation in Barcelona (2007). The European Desktop will take place at Ivorypress Art + Books C/ Comandante Zorita 48, Madrid, from February the 16th to April the 17th, 2010. The exhibition catalogue, to be published in 2010
by Ivorypress in collaboration with PaceWildenstein and the Oldenburg van Bruggen Foundation, includes texts by Richard Cork and Ida Gianelli.
In making this exhibition we have realised how powerfully Claes Oldenburg's practice was strengthened by the three decades of collaboration with Coosje van Bruggen. Coosje is still very much alive in every decision, and The European Desktop is a vital testimony to the dense, shared, lexicon of ideas that informed all of their conversations and established the truest of artistic partnerships.
In stock