Richard Tuttle: What Is the Object?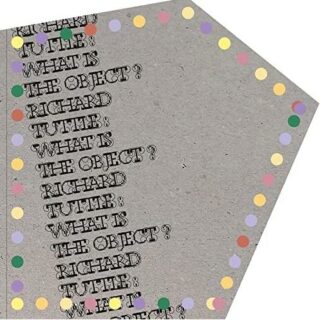 Tuttle, Richard
Binding: Hardcover
Language: Inglés
Pages: 204
Measurements: 279.40 x 260.40 cm
A beautifully designed volume exploring the object collection of the influential American artist Richard Tuttle
For Richard Tuttle (b. 1941), the object, as well as the work, is intended for communication. Where others find in history answers to the questions objects pose, Tuttle instead finds the questions that drive his art-asking us to think about what objects mean, and how. Richard Tuttle: What Is the Object? is the first publication to explore the influential American artist's object collection and the cards on which he has recorded his thoughts about these items over the past five decades.
This volume, designed by the Belgian book artist Luc Derycke as a "book as object," carries forth the challenging question of the meaning of objects. It includes an interview with Tuttle, an analysis of objects in poetic nonfiction by Renee Gladman, and an essay about Tuttle's art as the pursuit of a kind of philosophical exploration by Peter N. Miller, as well as poems by Tuttle and a short, surrealist tale about the artist's objects. Tuttle's objects and index cards are beautifully photographed throughout by Bruce M. White in this lavishly illustrated volume.