PUBLISHED BY NEW YORK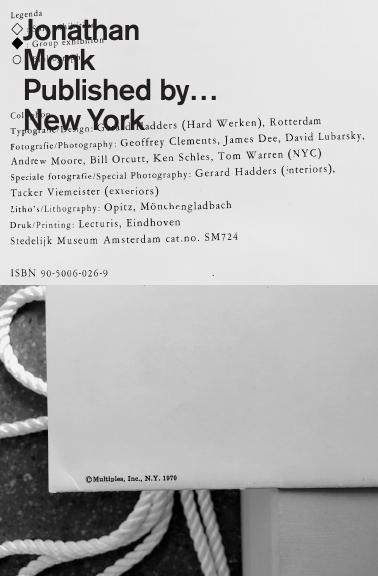 Monk, Jonathan
Binding: Paperback
Language: English
Measurements: 13.00 x 20.00 cm
"Published by…New York" is the second of a series of beautifully printed zines that document the publishers of books in the library of Jonathan Monk's Berlin studio. As an avid collector of artist books he has tried to curate his shelves into sections or individual cities. Artist, museum or publisher create the selective process. Initially the idea was to co-publish a book with hundreds of different publishers — each one an equal part of the project…a book made up of colophons, different fonts, designers, distributors etc. Brilliant, but logistically impossible. Maybe this is a zine in the form of a proposal or a proposal in the form of a zine…? Kodoji Press is happy to bring you "Published by…New York"— specifically made for The NY Art Book Fair. Followed swiftly by London, Paris, Berlin, Zurich, Toronto, Tokyo, Mexico City, Sydney and etc.
Jonathan Monk was born in Leicester, England in 1969. He lives and works in Berlin, Germany. "Published by…New York" is his second publication with Kodoji Press.
In stock