Looking Forward: Ivorypress at Twenty-five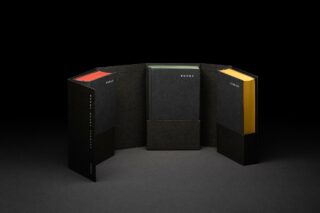 VV.AA
Binding: Box containing 3 volumes
Measurements: 1.60 x 2.20 cm
The special edition box set of Looking Forward: Ivorypress at Twenty-Five has been conceived as a pack to house the three books. It includes an open top through which the coloured edges can be seen and unfolds into a display device once opened. The books can also be acquired separately.
Words, Books, and Stories consider the many facets of Ivorypress activity as a means of reflecting on the history of the artist's book as a medium and of generating new ideas in art publishing for current and future generations of creators, historians, and students. By critically examining these materials, engaging in a series of interviews, and developing scholarship on past exhibitions, publications, and curatorial activities, these volumes seek to amplify the scholarship on the medium of the artist's book.
These three volumes chronicle Ivorypress's history since 1996 using a variety of primary sources and diverse perspectives that range from oral histories and archival documents to pictorial records and texts. It is a research tool for current and future generations of creators, historians and students as well as an opportunity to look back at the people, texts, images, artists' books, and works of art that have shaped Ivorypress.
In stock