Let s Talk Type "An Essential Lexicon of Type Terms"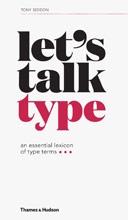 Seddon, Tony
Binding: Paperback
Language: English
Pages: 192
Measurements: 13.50 x 23.00 cm
An authoritative directory of over 300 type terms, from Axis to X-height
Why is Helvetica used for airport signs – and who designed Arial? What exactly is hand lettering? Which fonts tend to work best for emails, and what font is used on New York street signs?
Let's Talk Type answers all of these questions and more in one easy-to-use typography primer. With a clear 'What Is?' and 'Why Use It?' approach to the subject, it will help the reader to identify fonts and to choose the perfect type treatment for their message. It also tells the stories behind famous fonts.
An essential companion for anyone who writes or designs – whether for the web or print – this authoritative resource will save readers the hassle of navigating badly informed web content, and provides a design-conscious approach to the subject.
Out of stock