It just happened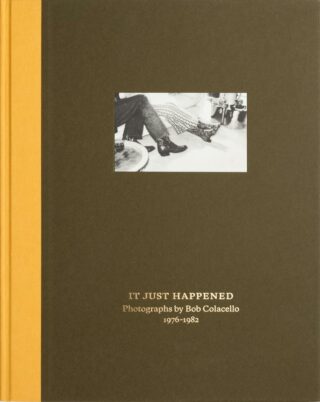 Colacello, Bob
Binding: Hardcover
Language: English
Pages: 280
Measurements: 24.50 x 30.50 cm
Conceived as a photographic album, this publication presents Bob Colacello's photographs chronologically, accompanied by captions handwritten by the photographer, explaining and contextualising the images. Colacello was editor of Interview magazine between 1971 and 1983, and Andy Warhol's right-hand. In It Just Happened, he shares photos from his personal album taken between the late seventies and early eighties, bringing alive an intimate and faithful chronicle of the fascinating social circle around the so-called Pope of Pop.
On one of his many travels, Colacello acquired a Minox—a tiny camera said to have been used by spies during the Cold War era.From that moment on, he carried it with him to jet-set parties, din- ners and weddings, at such emblematic settings as Studio 54 and presidential inaugurations. Barbara Allen, Thomas Ammann, Joseph Beuys, Peter Beard, Bianca Jagger, Robert Mapplethorpe, Robert Rauschenberg, Roy Lichtenstein, Cher, Truman Capote, Mick Jagger, Paloma Picasso, Audrey Hepburn, Jimmy and Rosalynn Carter and Raquel Welch are just a few of the icons that make up the select cast in Colacello's photographs.
This book is part of the Ivorypress Archives series, which aims to make unpublished and long-lost material available to the general public.
In stock