Fifth Avenue: From Washington Square to Marcus Garvey Park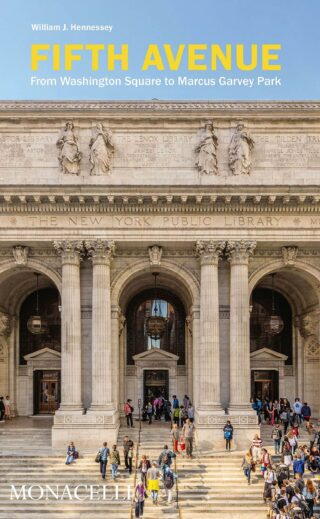 Hennessey, William
Binding: Hardcover
Language: Inglés
Pages: 224
Measurements: 14.40 x 24.00 cm
Fifth Avenue: From Washington Square to Marcus Garvey Park presents an in-depth exploration of architecture along one of the world's most iconic streets: New York City's fabled Fifth Avenue. Through six fact-filled walking tours, this accessible illustrated guide takes readers along the entire length of Fifth Avenue, studying its architecture block by block, building by building, offering the chance to discover exceptional and unusual structures across Greenwich Village, Midtown, the Upper East Side, and Harlem.
Heavily illustrated with more than 300 images and practical graphic maps that mark the stops along each route, Fifth Avenue spotlights hundreds of buildings, from familiar tourist destinations to lesser-known gems. Featured are, of course, major monuments including the Empire State Building, New York Public Library, Rockefeller Center, and Saint Patrick's Cathedral; luxurious shops such as Tiffany's, Cartier, and Bulgari; elegant hotels like the St. Regis and the Plaza; and the art treasures of Museum Mile on view at the Metropolitan Museum of Art, the Guggenheim, the Jewish Museum, and the Museum of the City of New York. Each of the walks offers a fascinating glimpse into the evolution of architectural styles, from the Beaux-Arts mansions of the turn of the twentieth century to the striking contemporary structures such as the glass flagship stores of Nike, Armani, and the towering One Vanderbilt. Highlights also include works by distinguished architects such as Richard Morris Hunt, Stanford White, and Frank Lloyd Wright and contemporary leaders like Rem Koolhaas and Bjarke Ingels.
Written as both a fireside and curbside read, this new book is essential for the curious architecture lover touring the New York streets, as well as anyone looking to gain a comprehensive understanding of the historic, social, and economic forces that shaped Fifth Avenue's growth and character.
Out of stock