Fetish. David Lynch – Christian Louboutin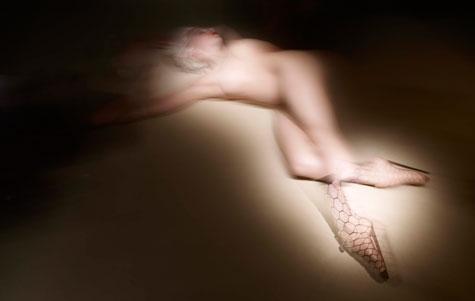 Lynch, David
Binding: Paperback
Pages: 78
Measurements: 20.10 x 16.00 cm
In one of the more imaginative collaborations we've seen of late, Christian Louboutin and David Lynch have locked heads and created a show, Fetish, which opens today in Paris in Pierre Passebon's Galerie du Passage. The exhibition shows five limited edition pairs of shoes by Louboutin alongside five signed photographs of the shoes by Lynch. As if Louboutin's day-to-day footwear weren't fetishistic enough, the pair together has taken the theme to an entirely new level.
Louboutin and Lynch Click on the image above to see more from the exhibition
As with so many collaborations, things moved very quickly. The process began when Lynch commissioned Louboutin to make shoes for an exhibition he was hosting at the Cartier Foundation back in March this year. The pair quickly became friends and when Louboutin wanted to push the notion of extreme fetish in his work, by creating shoes and then playing with their creative representation in two-dimensional images, it was clear Lynch would be the man to translate his vision.
'I tried to keep an element of my drawings, to be faithful to the drawings, with no practicality, just pleasure, thinking of extreme fetish shoes. Usually when you go to the third dimension you lose something,' explains Louboutin of his initial concept, 'then I wanted to photograph them – I find there's more emotion with cinematic images. I wanted Lynch's style and since we'd recently become friends it was natural for me to ask him.'
The designer has an atelier where the one-of-a-kind shoes are created. With practicality and comfort out the window, Louboutin has pushed the designs to their limits: think 26cms heels, spikes on the inside and sole of the shoe, and Siamese heels (two shoes fused at the heel).
The idea is that the shoe becomes a cult object, transcending the most beautiful part of the shoe and/or foot. Louboutin pinpoints 'The Siamese shoe' as his favourite, 'For me the shoe and the picture together become very close to Twin Peaks.'
Out of stock