Arquitectura de Tierra en América Latina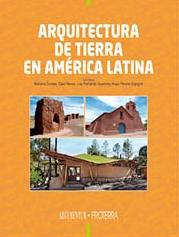 Correia, Mariana
Binding: Hardcover
Language: English
Pages: 352
Measurements: 24.00 x 32.00 cm
The book ARCHITECTURE OF EARTH IN LATIN AMERICA is the most important contribution made to date in the knowledge of Architecture and Construction with Earth located in the 19 countries of Latin America: Argentina, Bolivia, Brazil, Chile, Colombia, Costa Rica , Cuba, Ecuador, El Salvador, Guatemala, Honduras, Mexico, Nicaragua, Panama, Paraguay, Peru, the Dominican Republic, Uruguay and Venezuela.
With the collaboration of 84 authors, written in Spanish and Portuguese, illustrated with 365 images, this publication gathers diverse visions and interpretations that include the world heritage, the vernacular, pre-Columbian and republican heritage; It also describes social housing, contemporary architecture, prevention, conservation and restoration; To conclude with studies on education, research, training and knowledge transfer. The realities of earth architecture are varied in this vast, diverse and singular American continent and this book shows the quality of the work carried out by the Iberoamerican Network PROTERRA for its analysis and diffusion.
As an instrument of recognition of the identity of the constructive culture of these 19 countries, this book is unique and essential, as it reveals the state of the art of Architecture and Construction with Earth throughout Latin America.
An editorial novelty that had its launch in October in Asunción / Paraguay in the scope of the 16th SIACOT (Ibero-American Seminar on Architecture and Construction with Earth).
Out of stock