Archipiélago (Los ensayos banales 1 / The trivial essays 1)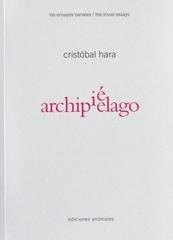 Hara, Cristóbal
Binding: Paperback
Language: Spanish/English
Pages: 32
Measurements: 17.00 x 24.00 cm
Archipelago is the first installment in Cristóbal Hara's collection The trivial essays.
Photographic language, specifically the language of photography that strives to be documentary, is limited by many rules and conventions. The work of Cristobal Hara focuses on the search for alternatives to the conventions of his time. In Los Ensayos Banales, the essay form, naturally shorter than a book, allows him to isolate and deal with different aspects of a photographer's craft by illustrating them with images, some of which are known while others have never been shown, that constitute a sample of his work of over 40 years.
The Trivial Essays are not aimed at a wide audience; rather than textbooks, these are a collection of specialist essays about photography for photographers, in which the images themselves are the medium.
Out of stock