Richard Tuttle – A Fair Sampling: Collected Writings 1966–2019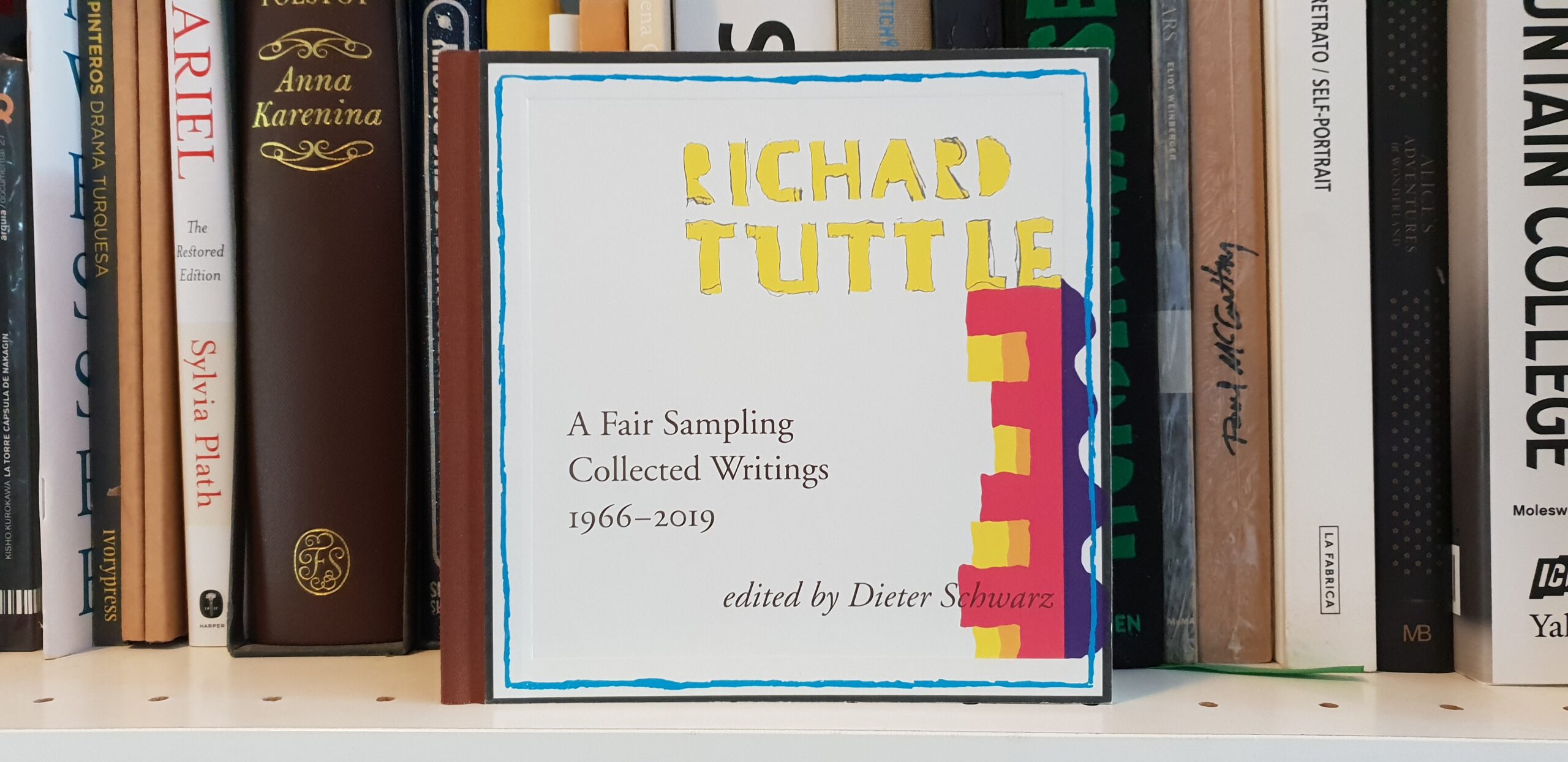 The American artist Richard Tuttle (b. 1941) is one of the leading exponents of artist's book making. He is often cited as a post-minimalist sculptor and is especially appraised for the delicacy of his small, subtle and intimate works. He creates these on a wide range of media: from sculpture, painting, drawing, printmaking and artist's books to installation and furniture.
This publication, A Fair Sampling: Collected Writings 1966–2019, shows that Tuttle is not only a prolific artist but also a writer and a poet. A collection of his writings might come as a surprise to many given the well-known reticence of the artist to comment on his work, but as the editor Dieter Schwarz states in his insightful introduction to the volume, over the last fifty years Tuttle's attitude towards his writings has changed, and he cites the artist: 'When I wrote many of these [texts], I did not believe, you can use words to say what you mean, as I do now.'
Even though Tuttle was very critical—at least for a long period in these last decades—towards the possibility of learning about art through reading, he has produced a large body of texts that are grouped within the book in ten chapters and cover the following topics: On Art, On Works and Exhibitions, On Drawing, On Paper, Books and Prints, On Textiles, On Artists and Friends, On Various Subjects, Talks Notes and Poems.
The texts range from short comments, reflections or notes to larger pieces from exhibition catalogues, books and newspapers. They show the same delicacy and humour as his artworks. For example, he answers to a survey on artist's books organised by Mimi Wheeler in 1976: 'Dear Mimi, There is no book. Richard Tuttle'. The mix of these witty short notes and more in-depth texts make the reading of the collection a pleasant task.
Dieter Schwarz explains in his introduction that only written words have been included in this volume, since Tuttle's spoken words convey his thinking process in a different manner. These criteria explain why the book excludes the texts from NotThePoint (London: Ivorypress, 2009), which are transcriptions of his spoken reflections on the character of colour. However, given the importance of his spoken words, the publishers will release a separate volume of his interviews in the future.
As for the physical object of these collected writings, the book—published by Verlag der Buchhandlung Walther König—is nicely designed and produced. The square format, the thick front and back covers and the spine allude to Tuttle's practice as a book artist. On the other hand, the enjoyably easy-to-read arrangement of the texts and the relatively small size of the publication ensure that the book can be comfortably read anywhere.