Man Jayen – edition of 100 copies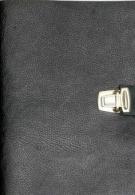 De Middel, Cristina
Binding: Leather bound
Pages: 118
Measurements: 15.50 x 20.50 cm
In 1911 an Arctic expedition set sail to rediscover the island of Jan Mayen, which lay off the eastern coast of Greenland. Not all went according to plan, however, and the end result was a series of staged images produced on the shores of Iceland.
Using the original archive and based on a script by the original expedition's cinematographer, Cristina de Middel staged her own series of photos on Scotland's Isle of Skye. The two sets of images were then blended together and hand-tinted in a re-telling of this hapless expedition's story.
This limited edition book is printed on deadstock recycled inkjet paper and has been bound by hand, with an embossed black leather cover and buckle clasp. Inside the book a concertina fold contains a further eleven concertina folds. Edition of 100.
In stock