In-Between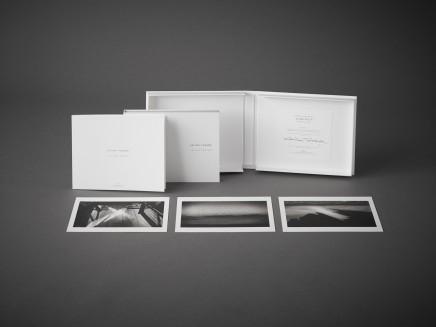 Tahara, Keiichi
Binding: Box with prints
Language: English
Measurements: 21.00 x 28.00 cm
Edition of 50. Keiichi Tahara is a highly acclaimed contemporary art photographer in Europe. Since his arrival in Europe in 1972, he has been fascinated by the light of France, thus light has been the central theme of his artistic creation. Instead of realizing objects by lights, he thrives to capture light itself, allowing viewers to realize the existence of light by demonstrating its temperature, humidity, and tactile texture as substances.nnTahara's artistic exploration extends further to the border between white light and black light: While white light is his personal psychic sensibility which directly dives into viewers' optic nerve and induces their feelings and emotions, black light stimulates imagination and creation by traveling through memories and traces of the past.nn"Keiichi Tahara's work belongs to the Japanese ancestral tradition (…) everything is always a question of transition, of movement, of modulation in intensity. The inside, the outside, black, white, nature, culture are not opposed in an antagonistic manner but are linked in a star pattern one to the other (…) Keiichi Tahara's diagrams are like machines which decompose the common notion of forms and projects us into universes of troubling strangeness and unfamiliar intimacy that have no clear frontier. (…) Instead of the viewer looking at the photograph, it is suddenly the photograph which surprises the viewer, scrutinizing him, questioning him and penetrating him to the depth of his soul." — Keiichi Tahara's Machinations of Light, Felix GuattarinnWhile the two lights are blended and fused IN-BETWEEN, the strata of the past and the traces of memory, i.e. the socially and culturally constructed values of the objects photographed, are deconstructed and illuminated by Tahara's sensibilities. They infinitely resonates, disperses and produces new meanings and sensibilities one after another as if the light is diffused by a prism. IN-BETWEEN therefore can be construed as a conceptual space where memories of human beings intersect and encounter each other.
Out of stock