Fellini – The Sixties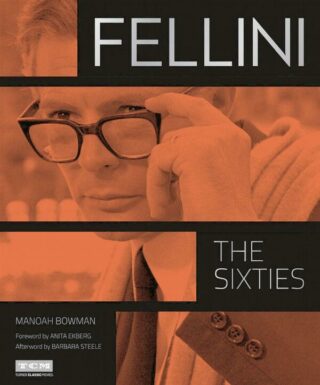 VV.AA
Binding: Hardback
Language: English
Pages: 304
Measurements: 27.00 x 27.60 cm
Fifty years since their initial releases, Federico Fellini's films of the 1960s still inspire, shock, and delight. More than just encapsulating the '60s, these films also helped define the style of the decade. With a staggering twelve Academy Award nominations between his four feature films during this period, Fellini reached the heights of fame, film artistry, and worldwide prominence. Studied, analyzed, and re-released over the years, these films continue to amaze each new generation that discovers them. Their impeccable style makes them timeless. Their images make them unforgettable. Their passion brings them to life. And their singular vision makes them unique in all of cinema.
Fellini – The Sixties is a stunning photographic journey through the director's most iconic classics: La Dolce Vita, 8 1/2, Juliet of the Spirits, and Fellini Satyricon. Carefully selected imagery from the Independent Visions photographic archive, many published here for the first time, illuminate these films as they have never been seen before, and reveal fascinating details of the director's working style and ebullient personality.
With more than 150 photographs struck from original negatives, these images spring to life from the page with the depth and quality of the films themselves. Complemented with insightful essays from contemporary writers, Fellini: The Sixties is a true testament to the man and his work, a remarkable compendium of the legendary filmmaker's greatest achievements.
Out of stock