Tomás Saraceno | Spiders in Motion, Rainy Commotion (an ongoing collection of proverbs)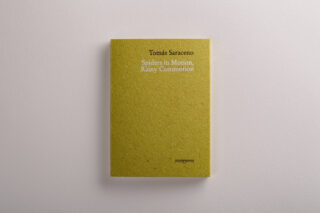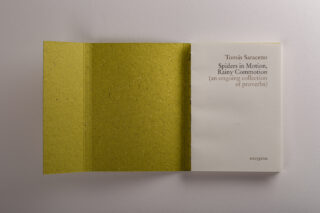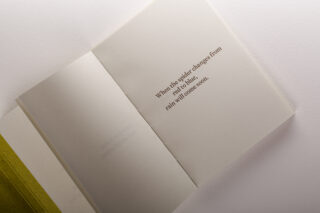 1 / 06 / 2023
Ivorypress is pleased to present Spiders in Motion, Rainy Commotion, the latest artist's book within the LiberArs series, created in collaboration with the Argentinian artist Tomás Saraceno who presents findings from his ongoing research on proverbs.
The proverbs collected in this book are an invitation, an exercise in collective memory, for some to change habits and not the climate. We are facing an environmental emergency and many ways of knowing are in crisis. For some, it seems unquestionable that the only way to forecast the weather is to consult a mobile phone connected to the World Wide Web. 
The artist stated, 'I hope these proverbs serve to widen and re-entangle knowledge. Maybe if 8 billion people could learn to read the weather without relying solely on the digital cloud, the entire climate of the planet would change—and this time for the good of the majority!'
Spiders in Motion, Rainy Commotion, published by Ivorypress, is an ongoing collection of proverbs made by Tomás Saraceno in the context of his exhibition Tomás Saraceno In Collaboration: Web(s) of Life, that takes place at Serpentine, London, between June 1 and September 10, 2023.
The materials used for this artist's book are compostable and made from plant fibres. The behaviour of these natural materials lead to imperfections, making each book unique.
Email bookshop@ivorypress.com to get your copy.