Ivorypress at the Bodleian Libraries, Oxford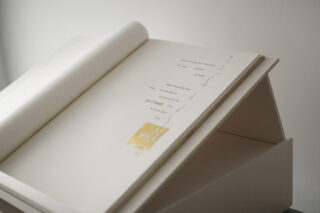 5 / 07 / 2022
From 28 June to 4 December 2022 the Bodleian Libraries will exhibit the artist's books breath and Tummelplatz as part of their Sensational Books exhibition.
These two artists' books by British artist Edmund de Waal and by South African artist William Kentridge each explore historic texts through the medium of the artist's book in vastly different ways. De Waal creates an homage to the late German poet Paul Celan by employing the visual language of porcelain and medieval manuscripts. Kentridge uses the early twentieth-century aviation technology of the stereoscope as a device for reading the vivid images of his Johannesburg studio, in which the artist wrestles with his ideas and inner landscapes.
Sensational Books explores our experiences of the book beyond reading. Structured around six senses of sight, sound, taste, smell, touch and proprioception – the sense of self-movement and body-perception – this exhibition will unlock a world of sensory engagement with books.
This exhibition is part of a multi-institutional exhibitions program taking place in museums and libraries across Europe and the United States during 2021 and 2022 on the occasion of Ivorypress' twenty-fifth anniversary. ⁠