'Thames River Water Atlas', by Marc Quinn at the Yale Center for British Art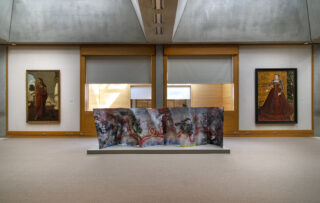 23 / 05 / 2022
From 20 May to  16 October, 'Marc Quinn: History Painting+' takes place at the Yale Center for British Art. The exhibition features six works by the artist shown in juxtaposition with paintings by Thomas Gainsborough, Joshua Reynolds, and J.M.W. Turner.⁠
⁠
The exhibition also features 'Thames River Water Atlas' (2017), a medium-scale sculpture that Quinn conceived as an artist's book for Ivorypress. Similar to many objects in the museum's collections, the work considers humanity's relationship with and impact on the environment. ⁠
⁠
This artist's book incorporates traces of detritus found at the edges of the Thames and impressions of water drains in London's streets, marking a vivid contrast with the land and seascapes on display at the YCBA. ⁠
⁠
This exhibition, open until 16 October 2022, is part of a multi-institutional exhibitions program taking place in museums and libraries across Europe and the United States during 2021 and 2022 on the occasion of Ivorypress' twenty-fifth anniversary. ⁠