Richard Long and Richard Tuttle at the Library of the Museum of Modern Art, New York, USA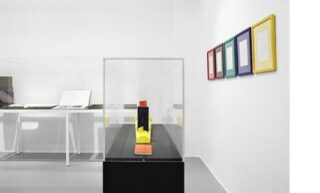 14 / 09 / 2021
From 14 September to 16 December, 2021 the Library of the Museum of Modern Art New York will exhibit the artist's books Walking and Sleeping and NotThePoint. Richard Tuttle's NotThePoint will be on view from 14 September to 8 November. Richard Long's Walking and Sleeping will be on view from 9 November to 16 December.
British artist Richard Long created the artist's book Walking and Sleeping for Ivorypress in 2003. It's a book about concurrent time. Each page represents one day from seven different walks, represented through 22 pages of text and 11 photographs. The inks for this edition were specially mixed by the artist and the pages are mounted onto a linen concertina, hand-sewn with hemp. The edition consists of 48 copies of which the first 16 books include original mud drawings created individually by the artist. The paper was hand-made at the Ruscombe Paper Mill with a straw-based pulp, especially for the edition.
NotThePoint is composed of five differently coloured, hand-bound books with letterpress printed texts on handmade paper. Each of the five books encompasses Tuttle's musings on a given colour vis-à-vis the human experience. Tuttle claims that colour is a continuously changing and subjective experience. The five books are emblazoned with the colour that corresponds to the essay inside. The books are held upright in an elaborately crafted holding-case of pigmented sycamore wood and cardboard which has been dyed yellow. The title NotThePoint graphically follows the forms of the holding case and books in outline. It's an edition of nine unique works, each of the book covers was painted by hand.
Richard Long (b. 1945 Bristol, UK) is a sculptor and best-known representative of Land Art. In 1989 he has been awarded with the Turner Prize. Book-making is a central part of Long's artistic practice. He makes books to privately record and publicly present his various engagement with nature.
Richard Tuttle (b. 1941 in New Jersey, USA) is an American postminimalist artist whose works span a range of media, from sculpture, painting, drawing, printmaking and artist's books. His work is widely recognized and exhibited. He won many awards including the 74th American Exhibition, Art Institute of Chicago Biennial Prize, the Skowhegan Medal for Sculpture in 1998, and the Aachen Art Prize in 1998 from the Ludwig Forum für Internationale Kunst.
This exhibition is part of a multi-institutional exhibitions program taking place in museums and libraries across Europe and the United States during 2021 and 2022 on the occasion of Ivorypress' twenty-fifth anniversary. Participating institutions include the Biblioteca Nacional de España in Madrid, the Bodleian Libraries at the University of Oxford, the British Library in London, the Centro de Iniciativas Culturales at the Universidad de Sevilla, Ivorypress Space in Madrid, Kettle's Yard at the University of Cambridge, Museo de Bellas Artes in Bilbao, Museo Chillida Leku in Hernani, Museo Lázaro Galdiano in Madrid, Museo Nacional Centro de Arte Reina Sofía in Madrid, the Museum of Modern Art in New York, the Neues Museum in Berlin, Stanford University Library in California, the Warburg Institute in London, and the Yale Center for British Art in New Haven.
As part of the celebration, Ivorypress is publishing moreover a three-volume book that chronicles the history of Ivorypress since 1996, using a variety of primary sources that range from oral histories and archival documents to pictorial records and texts.