Ivorypress – Soledad Lorenzo Awards 2020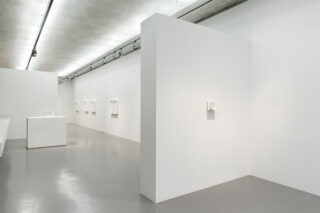 23 / 11 / 2020
Ivorypress has been awarded the Soledad Lorenzo Award in the Dissemination of Art and Collecting category with the project breath by British artist Edmund de Waal.
The objective of these awards is to recognise the fundamental work of gallery owners as discoverers of new artists, promoters of their careers, mediators between creators and collectors, generators of cultural heritage and knowledge, and disseminators of the values ​​associated with art and collecting in society.
The jury for this first edition, composed of Evelio Acevedo, managing director of the Thyssen-Bornemisza Museum; Nadia Arroyo, director of the Culture Area of ​​Fundación MAPFRE; Javier Aznar, writer and journalist; Lorenzo Castillo, interior designer; Fernando Castro Flórez, philosopher, art critic and professor at the Universidad Autónoma of Madrid; Carlos del Amor, journalist; Bea Espejo, curator and art critic; Manuel Fontán del Junco, director of exhibitions at the Fundación Juan March; Rodrigo Muñoz Avia, writer; and Carmen Reviriego, president of the Callia Foundation, has recognised the communication work carried out by the gallery in 2019, both through the internet, social networks, publications or face-to-face activities and through actions aimed at the media.
In 2019, Ivorypress invited the artist and writer Edmund de Waal to work in its three spaces: publishing house, exhibition space and bookshop. At the heart of this project was an artist's book: a work that spanned many years and in which De Waal looked hard into what books are, how they feel and their presence in the world. To accompany the book, the artist created a series of seventeen new works: vitrines, shelves, and diptychs conceived as open books, which take inspiration from Francisco de Zurbarán, Federico García Lorca and Paul Celan. Alongside these works, there was a reading room, a selection of one hundred books inviting visitors to sit down and read. The artist's book, the exhibition, and the reading room were conceived as a joint project.