Anthony Caro. Open Secret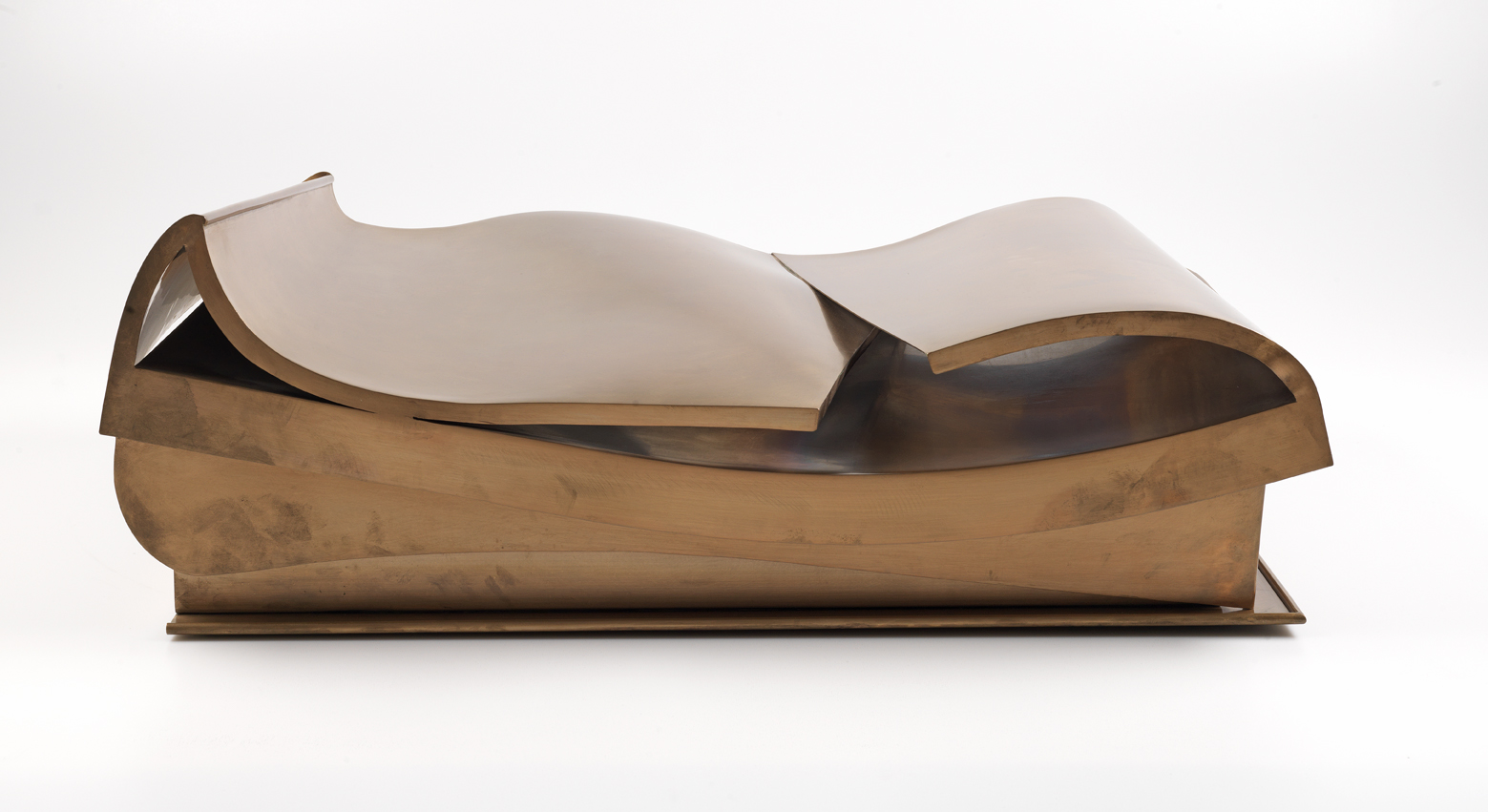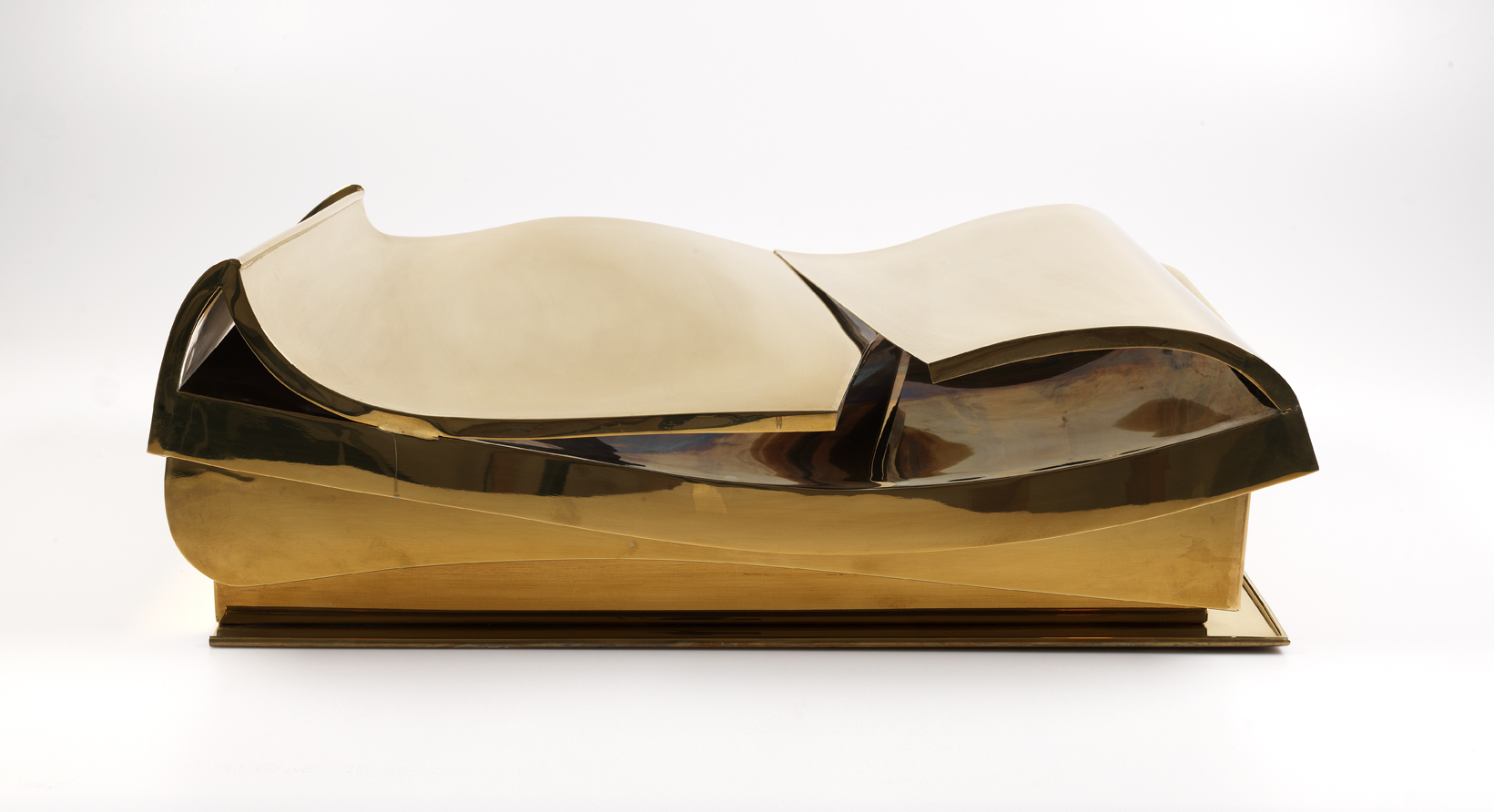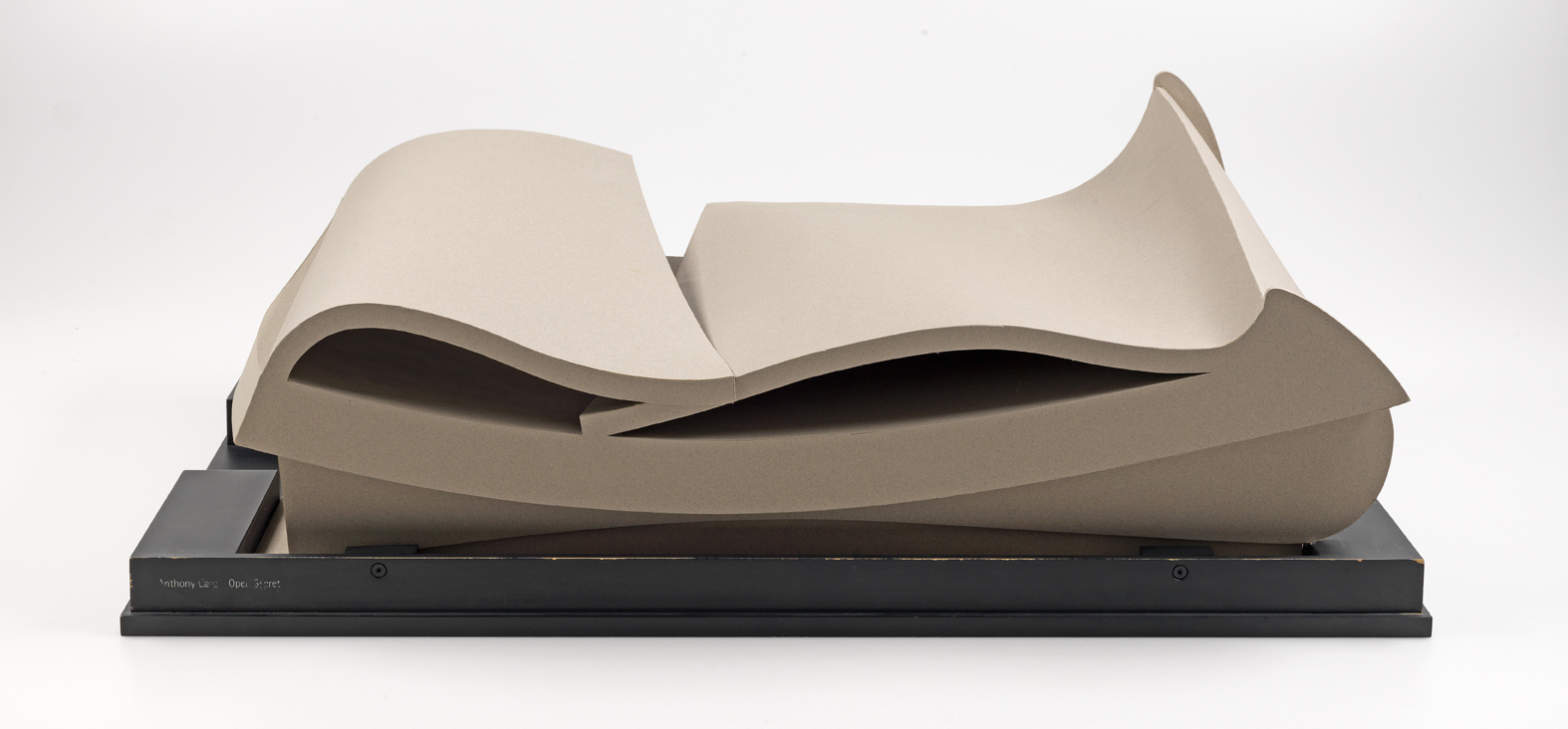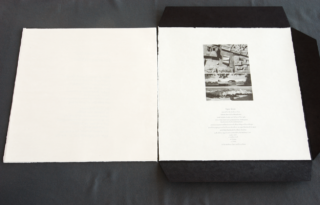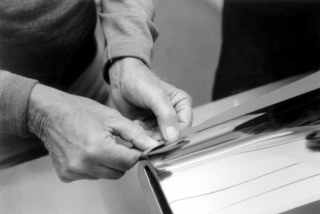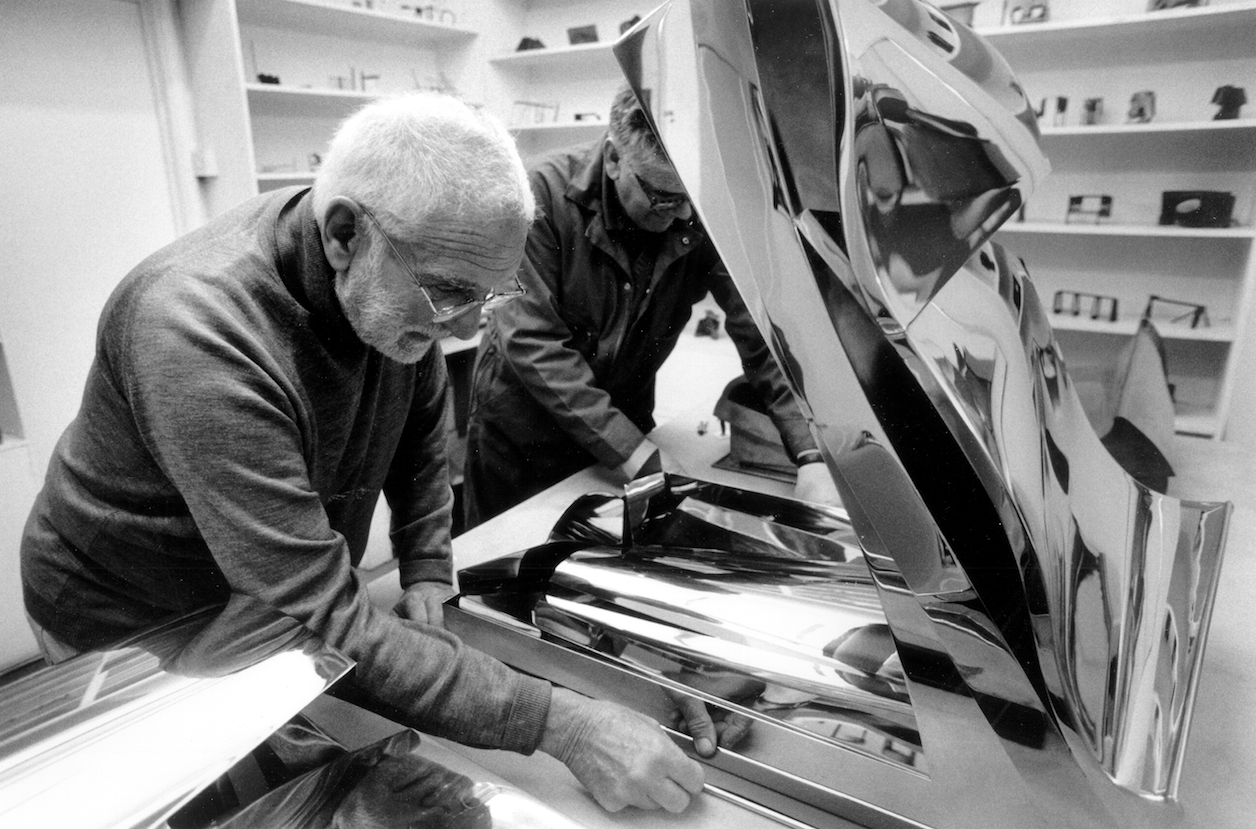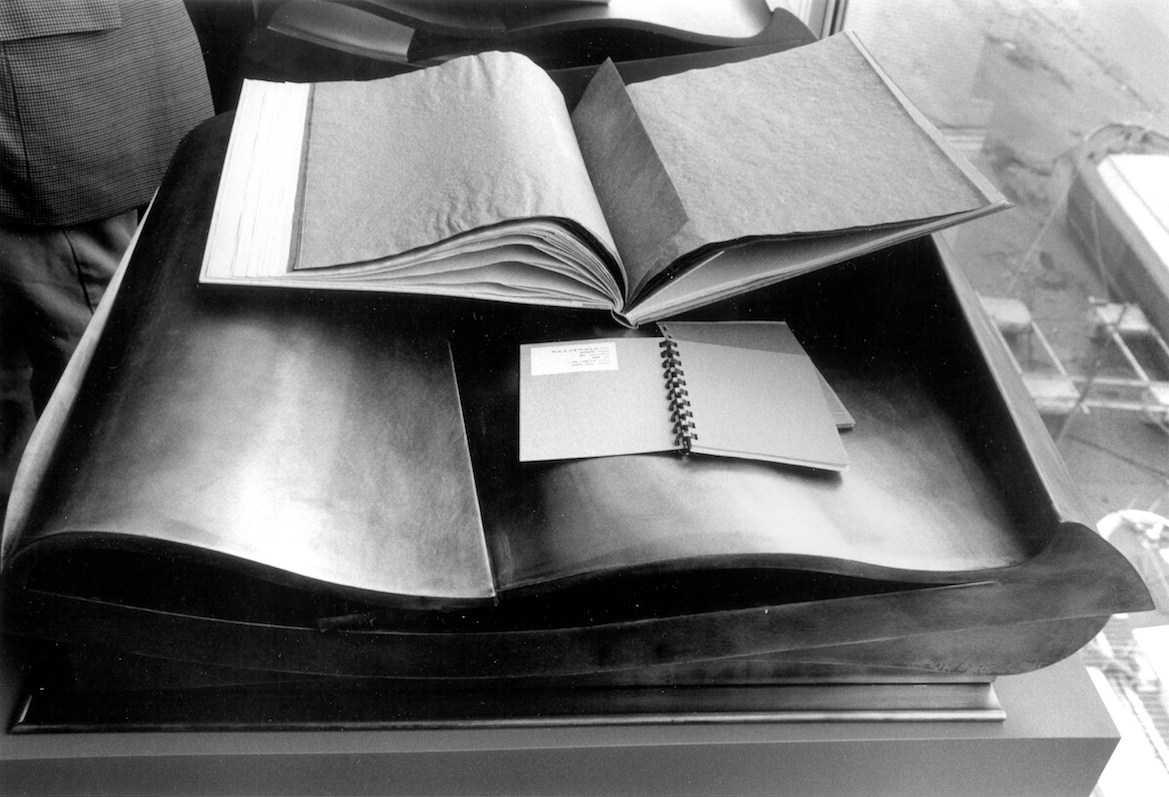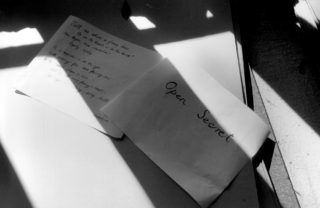 London (United Kingdom), 2004.

Edition of 31 sculptures in four materials: three were made in stainless steel, three in grey cardboard, 10 in bronze and 15 in brass, plus one artist proof of each.
[Due to the different materials used versions are not identical]

Height: 27 cm | Width: 61 cm | Depth: 80 cm

Each sculpture, designed by the artist, contains a portfolio of poems handwritten by Hans Magnus Enzensberger in English and in German and a handwritten passage by Anthony Caro from Shakespeare's Merchant of Venice. The pages of the portfolio were printed on handmade paper from Japan. Each sculpture's portfolio was printed in a different colour of ink (silver, light brown, dark brown and black respectively). Each sculpture is wrapped in black silk that has been printed via silkscreen by Nicola Killeen for Open Secret. Anthony Caro was responsible for the concept and design of the piece and Elena Ochoa Foster directed the edition. The metal sculptures were made by John Roake and Roberto Travaglia, and the grey cardboard sculptures were made by Gary Kugele. The portfolio pages were printed by Francis Atterbury. Each portfolio was handmade by Alison Strachen and was signed and numbered by Anthony Caro and Hans Magnus Enzensberger.
Exhibitions
Blood on Paper, Victoria and Albert Museum, London, UK, 15/04 – 29/06/2008
Artists' Books, The Lightbox Gallery and Museum, Woking, Surrey, UK, 20/01 – 21/04/09
Artists' Books, Whitechapel Gallery, London, UK, 25 – 27/09/2009
'Books beyond Artists: Words and Images', Ivorypress, Madrid, 24/02/2015 – 9/05/2015
Ivorypress at the Museo de Bellas Artes de Bilbao, Bilbao, 24/11/2021 – 30/01/2022
Highlights from the Ivorypress Collection, Ivorypress, Madrid, 22/02/2022 – 17/12/2022
Anthony Caro's 'Open Secret' (2004) at the Warburg Institute, Warburg Institute, London, 31 /05/2022 – 29/06/2022

Provenance
Ivorypress and the artist

Collections
Museo Nacional Centro de Arte Reina Sofía (MNCARS), Madrid, Spain
Private collections